Creative March – March 23rd
Get ready for AIGA San Antonio's third annual portfolio review, Creative March! We've gathered together a panel of excellent design professionals to answer your questions and critique your work. The event will start with a 40minute moderated Q&A with our professionals, followed by individual one-on-one 10-15 mini critique sessions with one of our panelists. Register for the event today! Sign up for critiques will be available first-come, first-serve at the event.
---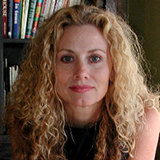 Jill Giles, Giles-Parscale, Inc.
Jill Giles is partner and creative director of Giles-Parscale, Inc., where she originates concept and design and art directs all projects. Her approach is holistic, encompassing a project's look, message, market presence, and even the environment where it takes place. Jill lived in Japan, Washington DC, and Brazil before settling down in San Antonio in 1984 to establish her first studio, Giles Design, Inc.  In 2010 she partnered with Brad Parscale to establish Giles-Parscale, Inc., a design and web marketing firm. Jill attended the University of Texas at Austin, where she earned three Ford Foundation grants and a BFA.  She has been a guest lecturer at Parsons School of Design, an instructor of graphic design at the University of Texas/San Antonio and the San Antonio Art Institute. Jill is president of the San Antonio Public Library Foundation and has served as a board member for AIGA/Texas [American Institute of Graphic Arts], The Blue Star Art Space – Contemporary Art For San Antonio, San Antonio College Professional Advisory Board, the Downtown Alliance, San Antonio Museum of Art Contemporaries, and the Guadalupe Cultural Arts Center.
---
Pat Marince, PM Creative / PM Photography
Pat Marince has over 30 years experience on the creative side of advertising.
Currently he owns two separate businesses. Under P.M. Creative he creates print advertising, writes copy, produces radio and television commercials and designs brochures, direct mail and billboards. As a commercial photographer, P.M. Photography, he shoots products and people in his studio and works on location. He also has an extensive stock photo library. His fine arts photography has been exhibited in galleries, art institutes, restaurants and universities. Marince is also a partner in The Image Collective, a fine arts photography gallery. Marince has worked for General Electric Advertising in New York, and in their international headquarters in Paris, France. He has also worked as an art director for ad agencies in Paris and London. In Amsterdam, Holland he was creative director of the largest Dutch agency. Returning to the States he was the creative director of The Pitluk Group in San Antonio and Metzdorf Advertising in Houston. Until starting his dual businesses he was a partner in both Thompson-Marince Advertising and Hispano Southwest Marketing. Marince has won over 345 major local, regional, national and international awards for his work in art direction, graphic and editorial design, copywriting, television, radio and photography. They include over 220 local San Antonio Addy Awards, numerous awards in Dallas and Houston, print annuals and international awards that include; The New York Art Director's Show, The British and Dutch Art Director's Annuals and The International Type Design Awards. For six years he taught an advanced course in, "Art Direction and Concept Thinking" in the advertising program at Texas State University. Marince also taught the same course at the University of Texas at Austin, at San Antonio College and at The San Antonio Art Institute. Pat grew up in Erie, Pennsylvania, and graduated from The Columbus College of Art & Design, in Columbus, Ohio, with a major in advertising design and a minor in photography.
---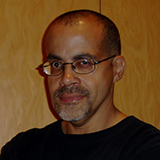 With almost 20 years of design experience, Eleazar consistently develops
breakthrough ideas to meet or exceed client needs. He has produced award-winning work for both national and international clients in the retail, utility, financial, higher ed, healthcare, development, medical, fitness and construction markets. His approach to work and design reflects his emphasis on simplicity, concept and
intelligence. His clients have included: Anne Klein, Steven Kretchmer, Kaiser Family
Foundation, Planned Parenthood, San Antonio Spurs, Dallas Cowboys and CPS
Energy to name a few. During Eleazar's career he has been awarded with numerous design and advertising awards such as: silver and gold Addys, a Best in Show at the San Antonio Addys and several national Telly awards. In 2007, Eleazar was named one of the Nation's Top Designers to Watch by Graphic Design: USA magazine. The national honor is awarded to designers who display a rare combination of talent, leadership, success, insight, business savvy, community service and newsworthiness. Previous winners of this award have included great designers like Primo Angeli, Saul Bass, Seymour Chwast, Milton Glaser and Stefan Sagemeister. Hernandez served on as vice president for the Graphic Artists Guild (GAG) in New York. His work has been featured in Graphic Design: USA, Basel, Graphic Artists Guild Annual, and Logo Lounge 6 among others. He has served as judge for numerous advertising and design competitions across the nation and was a frequent lecturer at universities, design organizations and the student chapter of AIGA in Upstate New York.
---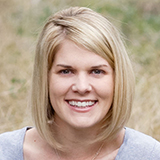 Aleshia Mayo is Partner and Senior Designer of San Antonio-based, Uppercase Design Group. The award-winning, full-service graphic design firm specializes in creating and promoting corporate identities. Prior to her career as a small business owner, Aleshia graduated from Kansas State University with a BFA in Graphic Design. She joined the creative department at New Century Graphics where she gained an array of skills in corporate design, production and visual and verbal communications. After nine years, she left to begin Uppercase Design Group which is celebrating its five year anniversary next month! Her love for typography is hands down her favorite element of graphic design. Aleshia lives in San Antonio, is married to her high school sweetheart and loves being a mom to her two sons! While she loves Texas, she will always call herself a Kansan. Go KState!
---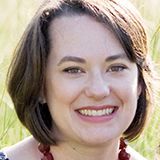 Jessie Stanco is the owner and chief sourcing expert at Boldface Marketing, a promotional marketing company in San Antonio,Texas. She provides creative solutions to promotional needs, supporting marketing efforts with product expertise and an eye for design. She counts several well-know advertising agencies as some of her favorite clients. Before venturing out on her own, Jessie was the Production Manager at Frost Bank for 9 years. At Frost, she managed design and was the primary liaison for designers and agencies for a large part of her tenure, evaluating design on a daily basis. She also sourced unique products that supported the brand, bought printing, managed a large inventory of collateral and promotional materials and coordinated delivery and storage. Jessie is a 6th-generation Texan who loves to visit other places but is certain that Texas is the only place to call home. Jessie and her husband of 12 years, a fellow Longhorn, live in San Antonio with their two beautiful daughters.
---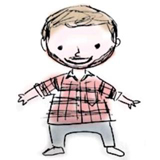 Ryan Bruner, Creative Tonic (Austin TX)
Originally from Northern California, Ryan Bruner moved to Austin in 2010 to pursue his MFA in Design from the University of Texas at Austin. Before transitioning into design, Ryan taught music at several high schools, colleges, and private organizations throughout Northern California–being called upon to compose, design, and instruct large scale musical programs. At UT Ryan combined his passion for teaching, graphic design, music, and technology through his exploration in emerging interactive technologies that allow users to interact within 3D space. Ryan has taught several classes and workshops at UT as both a student and part-time lecturer. In addition to teaching, Ryan works at designer at Creative Tonic (a Brand Experience studio based in Austin, TX) and is Email Communications Director for the AIGA Austin chapter.
---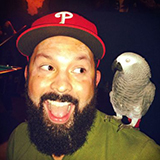 Russell is a designer for the Global Brand Creative group at Dell. Along with loving his teammates like a second family and enjoying inappropriate as well as thought-provoking conversations with these people over lunch, he is a huge zombie enthusiast, enjoys cheddar cheese and apple pie (both separate and together) and is passionate about daily lotion use, public service and creating great, meaningful and purposeful design.